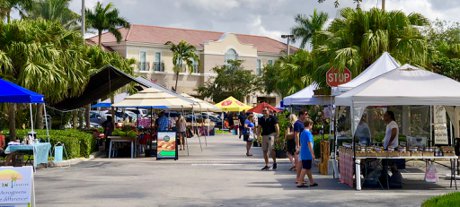 Naples has always been a town where people love to cook and eat and entertain. It wasn't too long ago – maybe ten years – that the only place to buy high quality fruits and vegetables was Publix. Things have changed!
Now, if you find yourself planning a meal or an event, a Farmers' Market is open nearby literally every day of the week. Fresh and local are the keys to fruits and vegetables, and we are blessed in Southwest to have an abundance of options. Within fifteen minutes of North Naples, there are at least 20 Farmers' Markets per week from October through April. And recently, driven by increased population and increased number of Summer visitors, many of the markets are open year round. We are compiling a list of the local markets and their operating hours, which we will post shortly. Today, we discuss two of our favorites.
Third Street South Farmers' Market
The largest of them all is the Third Street Farmers' Market, on Third Street South, between Broad St. and 13th Avenue South. The Market is a very important component of the Third Street South District's identity. Open Saturday mornings from 730 to 1130, it is one of the "must dos" of Naples.
It offers a very large selection of fresh fruits and veg, breads, coffee, cheeses, craft items, pastries, meats, eggs – we could go on and on. With strong support from local merchants and residents, Third Street South ranks as the #1 Market with our circle of friends. Like Naples itself, the Market swells in size from November through April, but it is open all year round.
But, today, we decided to explore a bit and hit one of the smaller markets. But not that small to be honest…
The Shoppes at Vanderbilt Farmers' Market
As I write this, it is almost August, so we are very close to the low ebb of local population (as a result of the Summer slow season and the peak of summer vacation season for locals). And yet, the Vanderbilt Farmer's Market had at least 20 vendors open for business. We arrived, and took our photos early, before it got busy, but there were at least 15 veg, fruit and other food vendor stalls, 10+ crafts and clothing sellers, and lots of interesting people to talk to.
One very nice merchant had some fresh baked, really great breakfast cupcakes and successfully tempted us. We had a good chat with a gentleman who told us all about Chaga mushrooms and their health benefits. He prepared us some tea that tasted great. Check out his site: ChagaForLife.com . He also is an expert in Siberian and North American teas.
But in spite of my real purpose being to pick up some tomatoes, garlic and herbs for a salad for a dinner party – mission accomplished – the family that was selling freshly cut, ice cold watermelon really made my day.
We will be taking a regular look at different markets around town and talking to the folks who work in them to bring us good, fresh food. We will be letting you know a bit about them as well. So check back with us.
I almost forgot one of the best reasons to go to our local Farmers' Markets – JUICE INGREDIENTS! Prices are low and quality is high, so if you happen to enjoy fresh juices, you can' find a better place to source your ingredients.
Have a great Saturday and weekend. Back to you soon.